Assistant Research Physician
Associate Director, Urologic Oncology Fellowship
Dr. Mark Ball is an attending surgeon in the Urologic Oncology Branch of the National Cancer Institute. He also serves as the Associate Program Director of the Urologic Oncology Fellowship Program. He specializes in the surgical treatment of kidney and adrenal tumors and performs robotic, laparoscopic and open surgery. He has particular expertise in robotic partial nephrectomy and robotic partial adrenlectomy for hereditary cancers syndromes, and has removed over 600 kidney tumors during partial nephrectomy procedures. He is experienced in reoperative surgery in patients with a history of prior surgeries and in patients with multiple tumors. 
Areas of Expertise
1) urologic oncologic surgery, 2) renal cell carcinoma, 3) hereditary kidney cancer syndromes, 4) adrenal surgery, 5) cancer genetics
Contact Info
Mark W. Ball, M.D.
Center for Cancer Research
National Cancer Institute
Building 10, Room 2-5942
Bethesda, MD 20892
Ph:

240-858-3700


mark.ball@nih.gov

Dr. Ball's research focuses on how tumor genetics translates into clinical behavior. He has authored over 100 peer-reviewed manuscripts, multiple book chapters and regularly presents his work at national and international meetings. He was recently a member of an international guideline committee on laparoscopic and robotic adrenal surgery.
He is currently investigating how genetic alterations influence the biology of kidney cancer, including growth and metastasis. Recent work has also focused on the role of somatic mutations in the response to checkpoint blockade in renal cell carcinoma and how genomic features correlate with pathologic features across all urologic malignancies. He also studies the role of preoperative imaging and biopsy in risk stratification prior to surgery.
NIH Scientific Focus Areas:
Cancer Biology, Clinical Research, Genetics and Genomics, Immunology
J Clin Oncol.

2020.

[ Journal Article ]

Science.

[Epub ahead of print],

2018.

[ Journal Article ]

Nat Rev Urol.

[Epub ahead of print],

2018.

[ Journal Article ]

Discov Med.

23(129):

379-387,

2017.

[ Journal Article ]

Eur Urol Focus.

[Epub ahead of print],

2017.

[ Journal Article ]
Dr. Ball is a fellowship-trained urologic oncologic surgeon. He received his undergraduate degree in biochemistry and molecular biology from Centre College, graduating magna cum laude and Phi Beta Kappa. He received his M.D. from the Johns Hopkins University School of Medicine. He completed his internship and residency at the James Buchanan Brady Urological Institute at Johns Hopkins. He subsequently completed a Society of Urologic Oncology-accredited fellowship at the National Cancer Institute where he worked in the laboratory of W. Marston Linehan, M.D. He is board-certified by the American Board of Urology
Dr. Ball has been the recipient of several academic honors including election to the Alpha Omega Alpha honor society, outstanding laparoscopic surgeon from the Society of Laparoendoscopic Surgery, outstanding research from the Society of Urologic Oncology, recipient of a competitive LRP award from the NIH, and multiple teaching awards.
---
News
---
April 17, 2019
Friends at NIH
Sierra smiled – and shed a few tears — as she posed recently with her physician, Dr. Mark Ball. After a round of tests and a sleepless night, she'd gotten the good news that she's cancer free. Read more...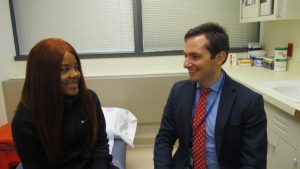 AUA Core Curriculum: How to Perform a Flank Incision [VIDEO]
GU ASCO 2020 Posters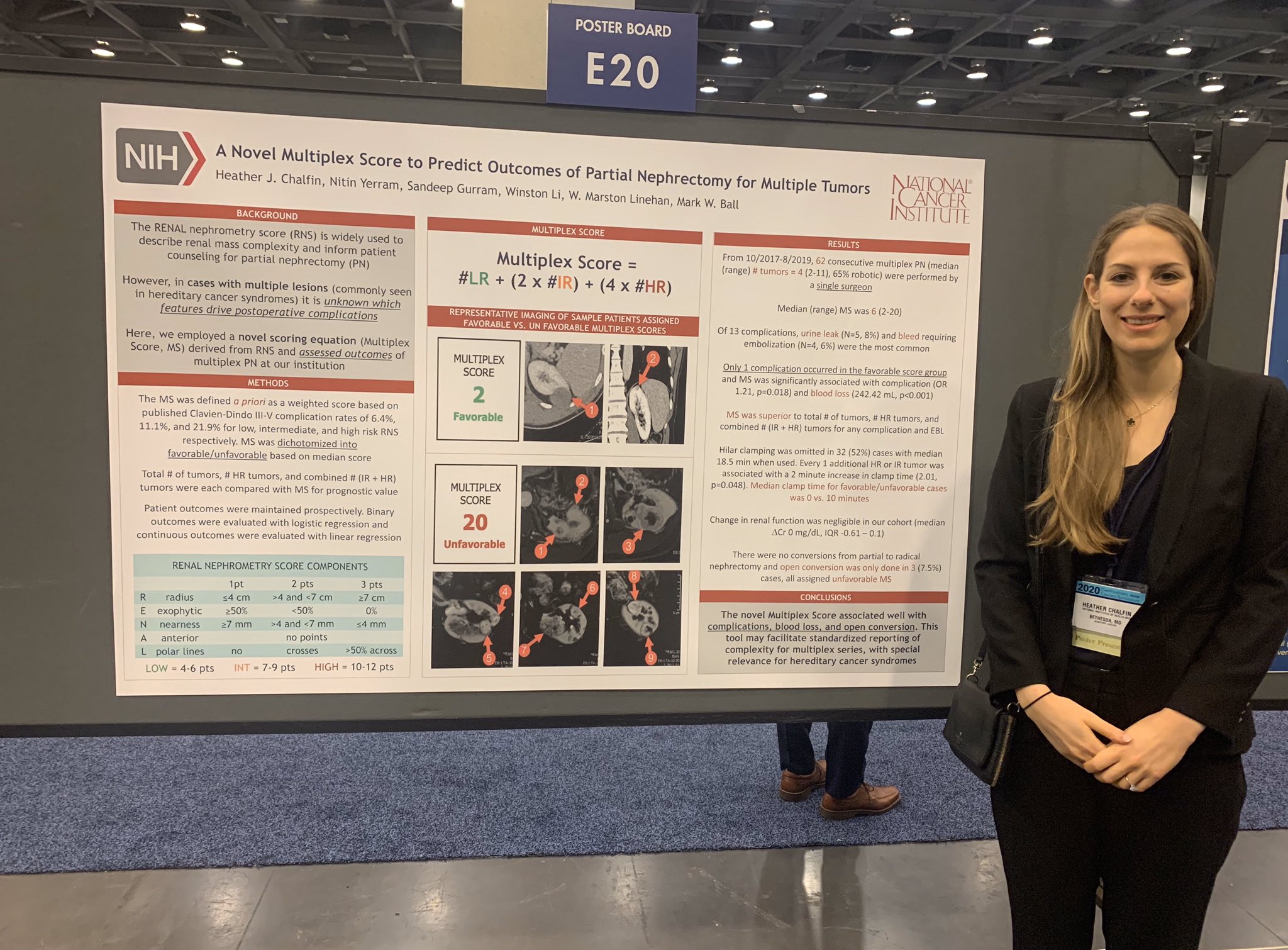 Dr. Heather Chalfin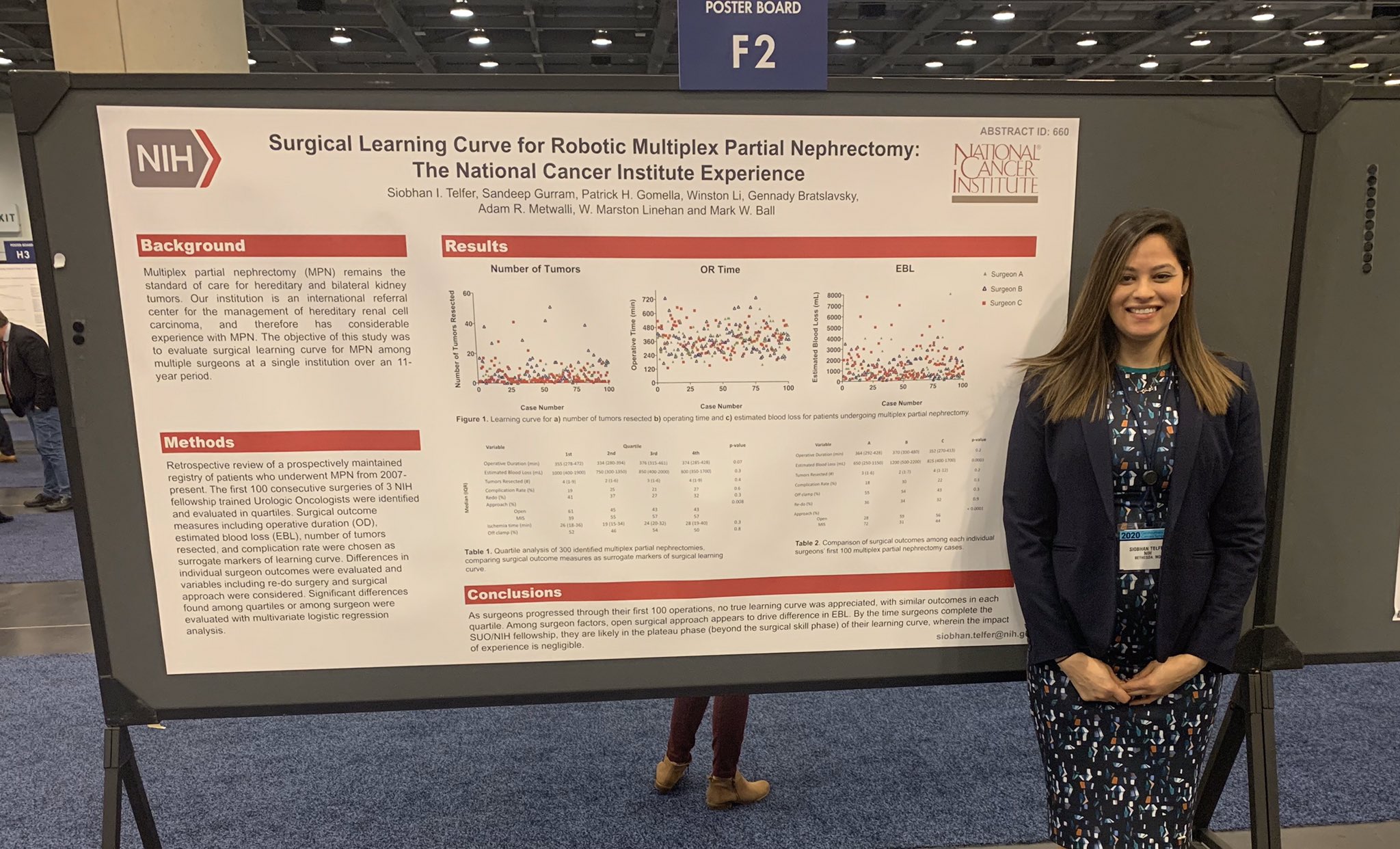 Dr. Siobhan Telfer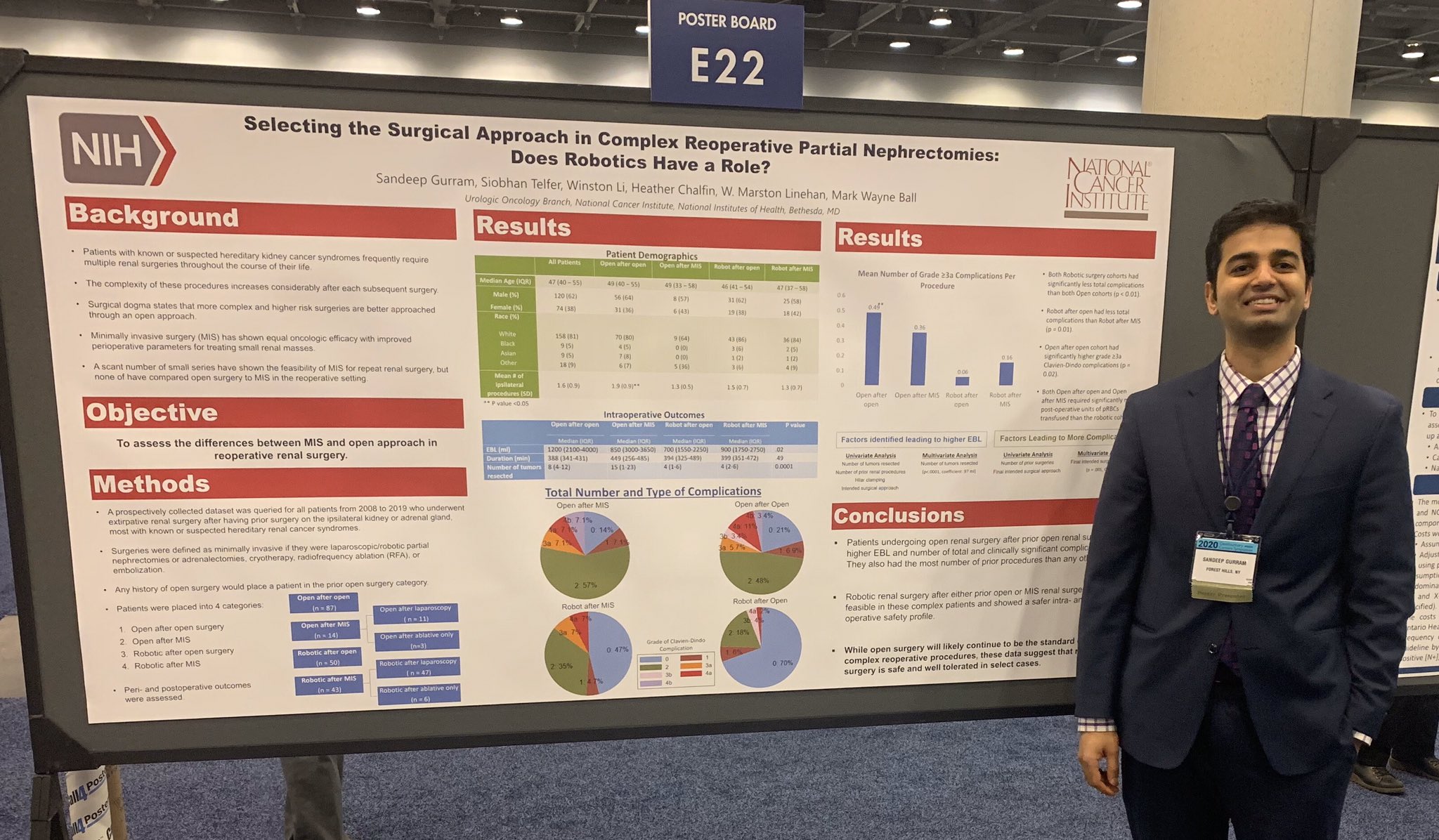 Dr. Sandeep Gurram
High School Summer Research Day 2019
Winston Li
AUA 2019