Center for Cancer Research
National Cancer Institute
Building 10, Room 2-5942
Bethesda, MD 20892
240-858-3700
RESEARCH SUMMARY
Dr. Mark Ball is an attending surgeon in the Urologic Oncology Branch of the National Cancer Institute and Associate Program Director of the Urologic Oncology Fellowship Program. 
He is the highest volume robotic kidney surgeon in the metropolitan Washington D.C area and an internationally recognized expert in kidney cancer. He specializes in the surgical treatment of kidney and adrenal tumors and performs robotic, laparoscopic and open surgery. He has particular expertise in robotic partial nephrectomy and robotic partial adrenalectomy for hereditary cancers syndromes, and has removed over 1,000 kidney tumors during partial nephrectomy procedures. He is experienced in reoperative surgery in patients with a history of prior surgeries and in patients with multiple tumors. He has authored over 115 manuscripts and regularly presents at national and international conferences. 
Areas of Expertise
1) urologic oncologic surgery 2) renal cell carcinoma 3) hereditary kidney cancer syndromes 4) adrenal surgery 5) cancer genetics
Information for Patients
Learn more about our clinical trials and the highly specialized care teams that lead them.
Research
Dr. Ball's research focuses on how tumor genetics translates into clinical behavior. He has authored over 100 peer-reviewed manuscripts, multiple book chapters and regularly presents his work at national and international meetings. He was recently a member of an international guideline committee on laparoscopic and robotic adrenal surgery.
He is currently investigating how genetic alterations influence the biology of kidney cancer, including growth and metastasis. Recent work has also focused on the role of somatic mutations in the response to checkpoint blockade in renal cell carcinoma and how genomic features correlate with pathologic features across all urologic malignancies. He also studies the role of preoperative imaging and biopsy in risk stratification prior to surgery.
NIH Scientific Focus Areas
Cancer Biology
Clinical Research
Genetics and Genomics
Immunology
Publications
Selected Key Publications
Biography
Associate Research Physician
Mark W. Ball, M.D.
Dr. Ball is a fellowship-trained urologic oncologic surgeon. He received his undergraduate degree in biochemistry and molecular biology from Centre College, graduating magna cum laude and Phi Beta Kappa. He received his M.D. from the Johns Hopkins University School of Medicine. He completed his internship and residency at the James Buchanan Brady Urological Institute at Johns Hopkins. He subsequently completed a Society of Urologic Oncology-accredited fellowship at the National Cancer Institute where he worked in the laboratory of W. Marston Linehan, M.D. He is board-certified by the American Board of Urology
Dr. Ball has been the recipient of several academic honors including election to the Alpha Omega Alpha honor society, outstanding laparoscopic surgeon from the Society of Laparoendoscopic Surgery, outstanding research from the Society of Urologic Oncology, recipient of a competitive LRP award from the NIH, and multiple teaching awards.
News
News
---
January 6, 2022
Katie Coleman is driven. If something doesn't sit right with the 15-year veteran of the motorsports industry, she doesn't stop until it does. Read more...
---
Advances in Care Help Save Young HLRCC Patient
August 2, 2021
NIH Record
When college student Andrew Lee was diagnosed with stage 4 rare kidney cancer in 2015, he would spend the next 4 years fighting it. Read more...
​
---
Voice of Kidney Cancer – Tracie Titus
March 2, 2021
KCCUre
When Tracie's husband was diagnosed with bilateral, multifocal papillary type 1 renal cell carcinoma, she refused to stand-by – instead she stood up. Through research and outreach, she and her husband were able to get a second opinion, which resulted in a dramatically different outcome. Read More...
​
---
April 17, 2019
Friends at NIH
Sierra smiled – and shed a few tears — as she posed recently with her physician, Dr. Mark Ball. After a round of tests and a sleepless night, she'd gotten the good news that she's cancer free. Read more...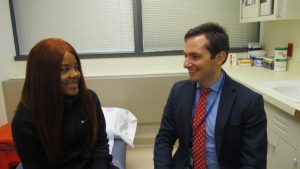 Covers
X-Capsular Incision for Tumor Enucleation (X-CITE)-Technique: A Method to Maximize Renal Parenchymal Preservation for Completely Endophytic Renal Tumors
Objective: To describe the X-Capsular Incision for Tumor Enucleation (X-CITE) technique to resect endophytic renal tumors while preserving the overlying renal parenchyma.
Subjects and methods: We reviewed 1-year outcomes of 12 consecutive patients with a history of bilateral or multifocal renal tumors who presented to our institution with completely endophytic renal masse(s) between August 2017 and August 2018. Endophytic tumors were resected by making an X-shaped incision in the renal capsule and developing parenchymal flaps overlying the tumor pseudocapsule. Following tumor enucleation, the overlying parenchymal flaps were reapproximated.
Results: Median follow up was 19.9 months (range 10.6-14.9). Most patients also had additional exophytic tumors with a median of 5 renal tumors removed per operation with a median largest renal tumor size of 3.2 cm. No intraoperative or postoperative complications occurred. There was no decline in renal function after surgery when comparing median pre- and 12-month postoperative eGFR (94.5 vs 91.5, P= 0.18).). Postoperative nuclear mercaptoacetyltriglycine (MAG-3) renal scans demonstrated equal differential kidney function after surgery. Limitations include short-term follow-up and referral bias at center specializing in multi-focal kidney surgery.
Conclusion: The X-Capsular Incision for Tumor Enucleation technique is feasible, safe and effective with minimal collateral damage in the treatment of completely endophytic renal masses. Further investigation should identify which patients may benefit from this procedure and explore intermediate and long-term outcomes.
Citation
Lebastchi AH, Haynes B, Gurram S, Bratslavsky G, Metwalli AR, Linehan WM, Ball MW. X-Capsular Incision for Tumor Enucleation (X-CITE)-Technique: A Method to Maximize Renal Parenchymal Preservation for Completely Endophytic Renal Tumors. Urology. 2021 Aug;154:315-319. doi: 10.1016/j.urology.2021.03.032. Epub 2021 Apr 5. PMID: 33831400.
Comprehensive characterization of Alu-mediated breakpoints in germline VHL gene deletions and rearrangements in patients from 71 VHL families
alterations in the VHL gene. VHL patients are at risk for benign as well as malignant lesions in multiple organs including kidney, adrenal, pancreas, the central nervous system, retina, endolymphatic sac of the ear, epididymis, and broad ligament. An estimated 30%–35% of all families with VHL inherit a germline deletion of one, two, or all three exons. In this study, we have extensively characterized germline deletions identified in patients from 71 VHL families managed at the National Cancer Institute, including 59 partial (PD) and 12 complete VHL deletions (CD). Deletions that ranged in size from 1.09 to 355 kb. Fifty-eight deletions (55 PD and 3 CD) have been mapped to the exact breakpoints. Ninety-five percent (55 of 58) of mapped deletions involve Alu repeats at both breakpoints. Several novel classes of deletions were identified in this cohort, including two cases that have complex rearrangements involving both deletion and inversion, two cases with inserted extra Alu-like sequences, six cases that involve breakpoints in Alu repeats situated in opposite orientations, and a "hotspot" PD of Exon 3 observed in 12 families that involves the same pair of Alu repeats.
Citation
https://pubmed.ncbi.nlm.nih.gov/33675279/
Surgical Management of Metastatic Renal Cell Carcinoma
Abstract
Despite advances in systemic therapy for metastatic renal cell carcinoma, durable responses remain rare and surgical management remains a mainstay of treatment for many patients with metastatic disease. Management of the primary tumor in metastatic patients can occur as 1) palliative nephrectomy for symptomatic patients in whom cure is not achievable, 2) cytoreductive nephrectomy before systemic therapy, or 3) consolidative nephrectomy after systemic therapy. Palliative nephrectomy is rarely performed in centers where angioembolization is available. The evidence for cytoreductive nephrectomy is based on randomized trials in the cytokine era and retrospective studies in the more recent targeted therapy era. Consolidative nephrectomy is utilized after systemic therapy for intermediate- and poor-risk patients or in patients with potentially unresectable disease based on retrospective evidence. Resection of metastatic lesions, or metastasectomy, is utilized in select patients, with efficacy predicated on the organs involved and the extent of resection that is achievable, based on retrospective data. Herein, the evidence for surgical management of both the primary tumor and metastatic lesions in patients with metastatic renal cell carcinoma is reviewed.
Recent Advances in Immunotherapy for Kidney Cancer
Abstract
Immunotherapy has been a mainstay of treatment for metastatic renal cell carcinoma (mRCC) since the introduction of high-dose interleukin-2. Recently, improved knowledge of immune regulation and tumor-host immune interactions has led to the development of several novel immunotherapies. Immune checkpoint blockade showed promise in early clinical trials -- eventually leading to FDA approval of nivolumab (anti-PD-1) as a second-line treatment for mRCC. Despite encouraging results, PD-1 blockade alone does not achieve durable responses in the majority of patients treated. Improved biomarkers for patient selection, tumor vaccines and combination therapy may augment the efficacy of existing immunotherapies. This review summarizes recent progress in immunotherapy for RCC, focusing on a discussion of emerging agents.
The Changing Landscape of Systemic Therapy in Metastatic Renal Cell Carcinoma: an Update
Treatment options for metastatic renal cell carcinoma (RCC) continue to expand. Three recent phase III trials, Checkmate 214, Keynote-426, and Javelin Renal 101, have led to FDA approval of three new regimens for patients with clear cell RCC: nivolumab plus ipilimumab, pembrolizumab plus axitinib, and avelumab plus axitinib, respectively. At the same time, the dearth of treatment options for non-clear cell RCC has changed very little. The role of cytoreductive nephrectomy has also come into question after the publication of the CARMENA and SURTIME trials. This review will examine recent changes in therapeutic options in clear cell RCC and non-clear RCC, and the role of surgery in the treatment of metastatic RCC.
Minority Enrollment in Phase II and III Clinical Trials in Urologic Oncology
PURPOSE
Proportionate minority representation in clinical trials is an important step toward addressing health care inequities. Given the paucity of data on this topic in urologic oncology, we sought to quantify the enrollment of minority patients in clinical trials studying prostate, kidney, and bladder/urothelial cancers.
METHODS
The ClincialTrials.gov database was queried for completed phase II and III interventional trials in prostate, kidney, and bladder cancers. The SEER database was used to calculate the US prevalence of these genitourinary cancers. Representation quotients (RQ) were calculated to describe the relative proportion of each racial/ethnic group enrolled in clinical trials over the proportion of persons from each group among national cancer cases by cancer type.
RESULTS
Of 341 trials that met initial eligibility criteria, only 169 (49.7%) reported data on race or ethnicity. Aggregate RQs from 2000 to 2017 showed that White patients were continually over-represented in trials for all cancer types. Black and Asian patients were poorly represented across all cancer types. When stratified by 3-year increments, the RQs remained stable for all races, from 2000 to 2017. When stratified by ethnicity, Hispanic patients were under-represented across all cancer types in the study period. When examining representation by funding source, we found that US government–funded clinical trials proportionally enroll the most diverse patient populations over those funded by academic institutions and industry. Interestingly, more than 50% of the trials examined did not report race nor ethnicity, highlighting a crucial flaw in investigator compliance with federal clinical trial mandates.
CONCLUSION
Clinical trials targeting prostate, kidney, and bladder cancers continue to under-represent racial/ethnic minority patients. On the basis of the incidence of these cancers within minority populations, efforts should focus on creating racially and ethnically inclusive cancer research.
Lab Life
AUA Core Curriculum: How to Perform a Flank Incision [VIDEO]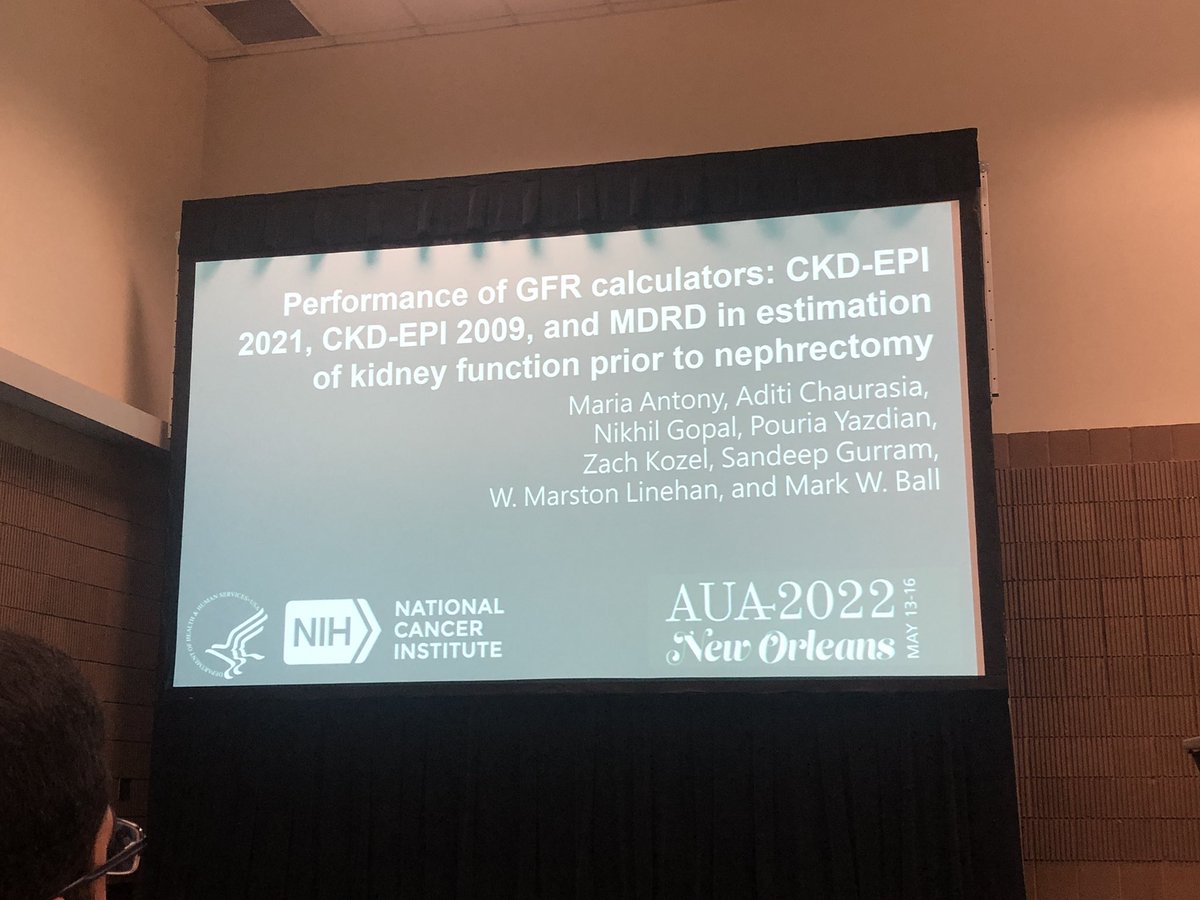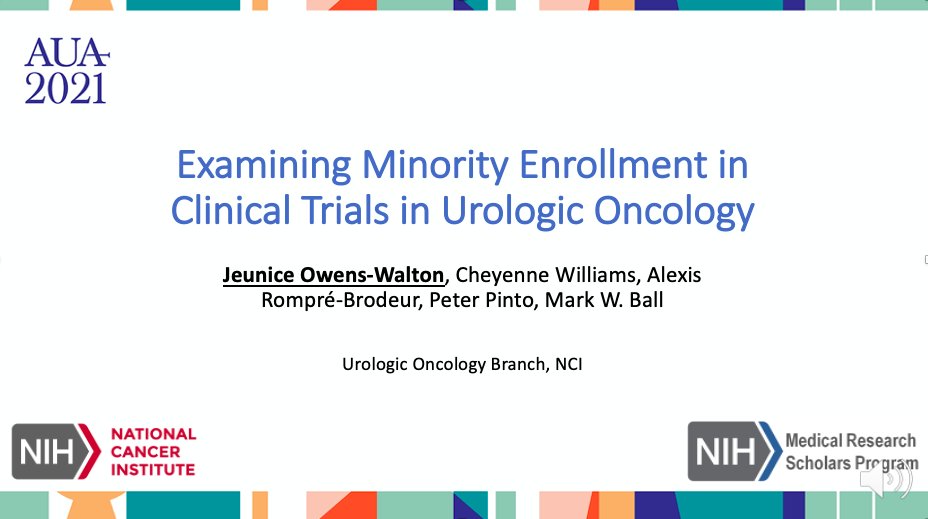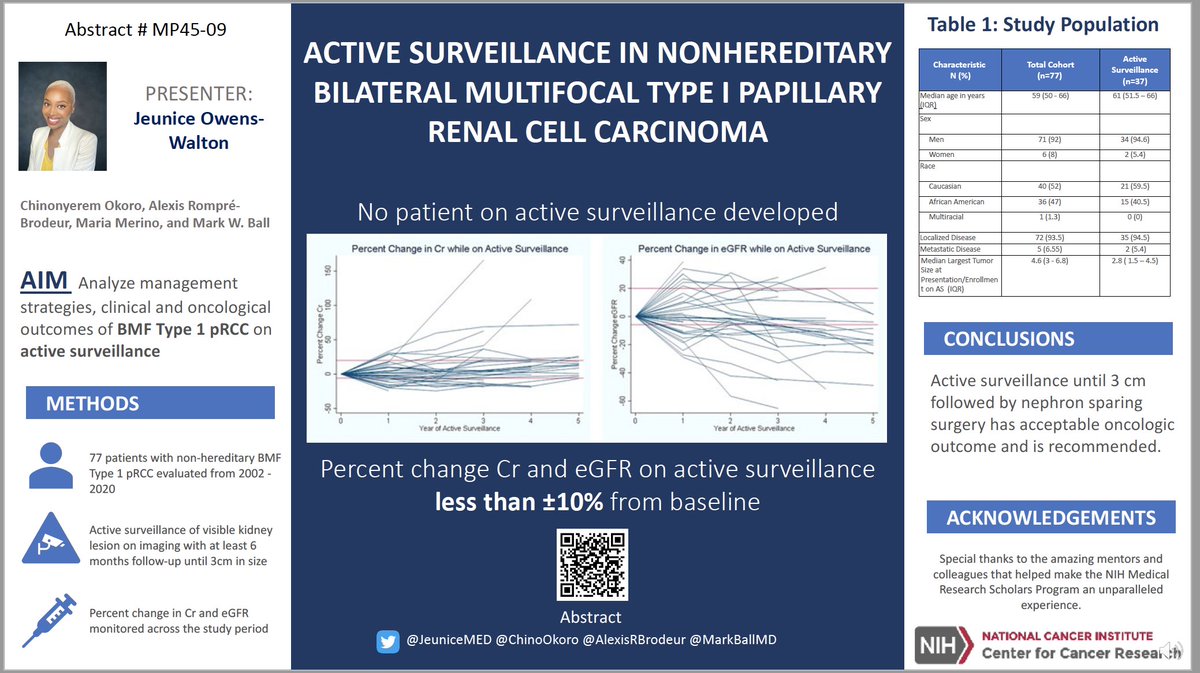 GU ASCO 2020 Posters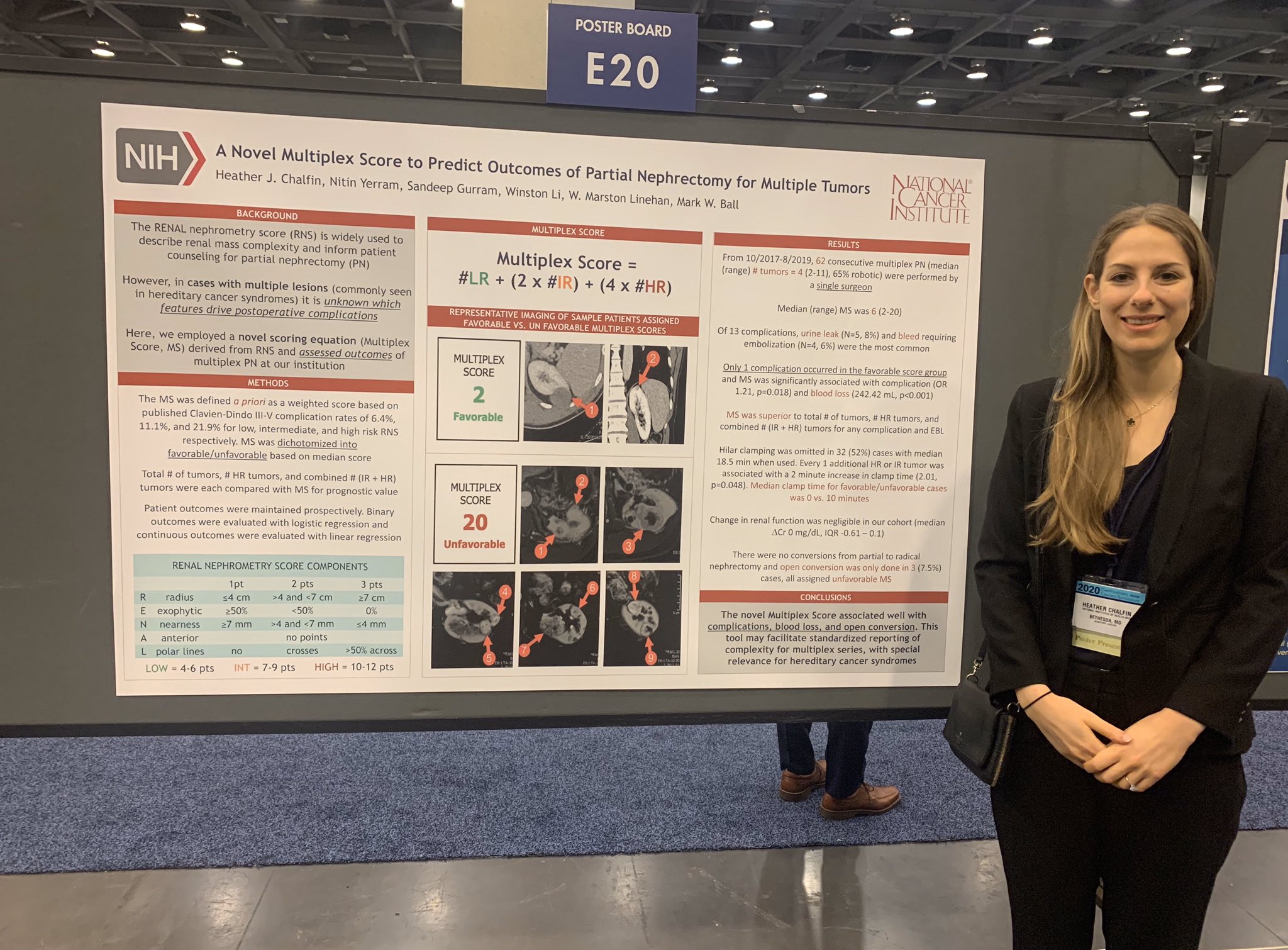 Dr. Heather Chalfin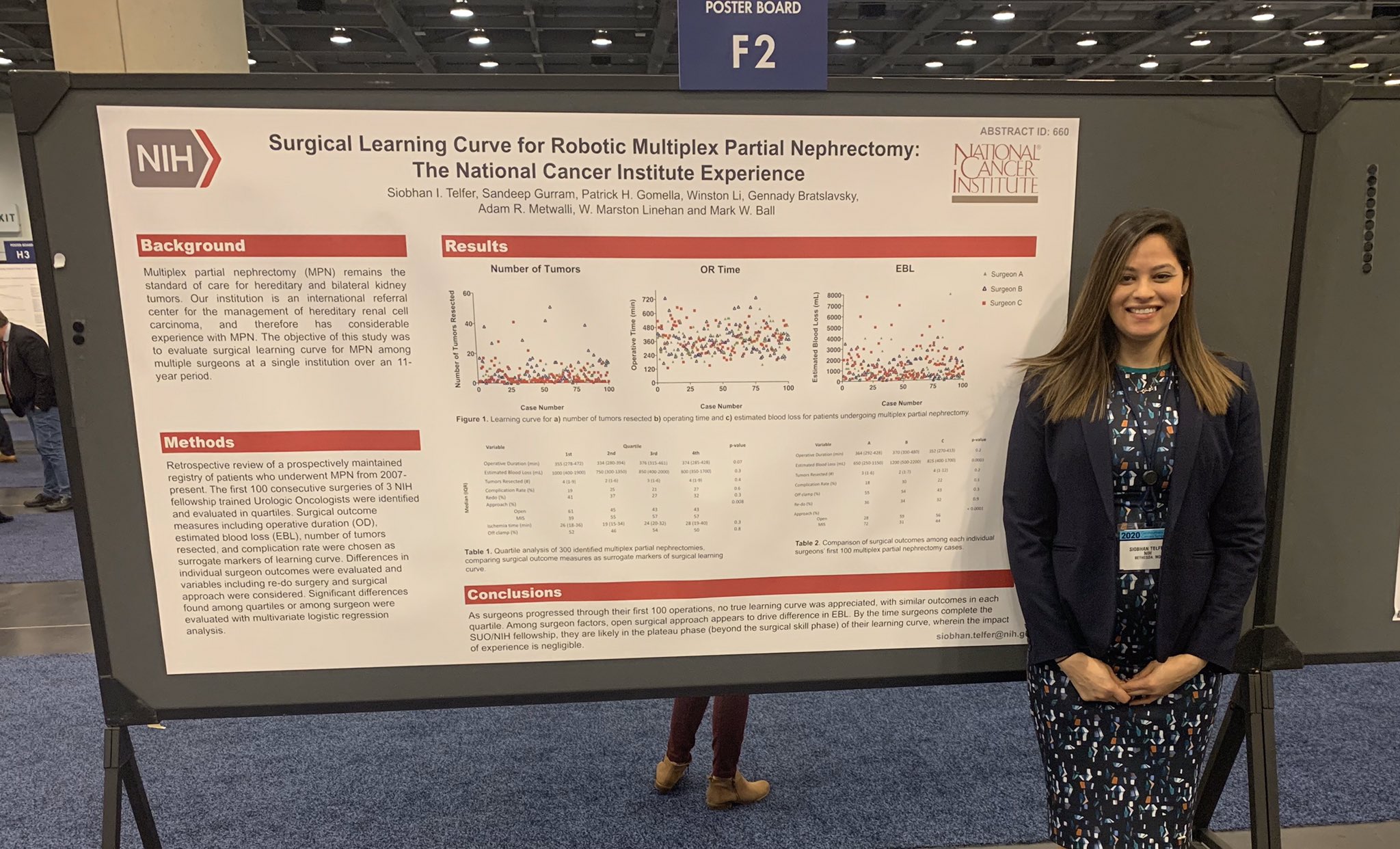 Dr. Siobhan Telfer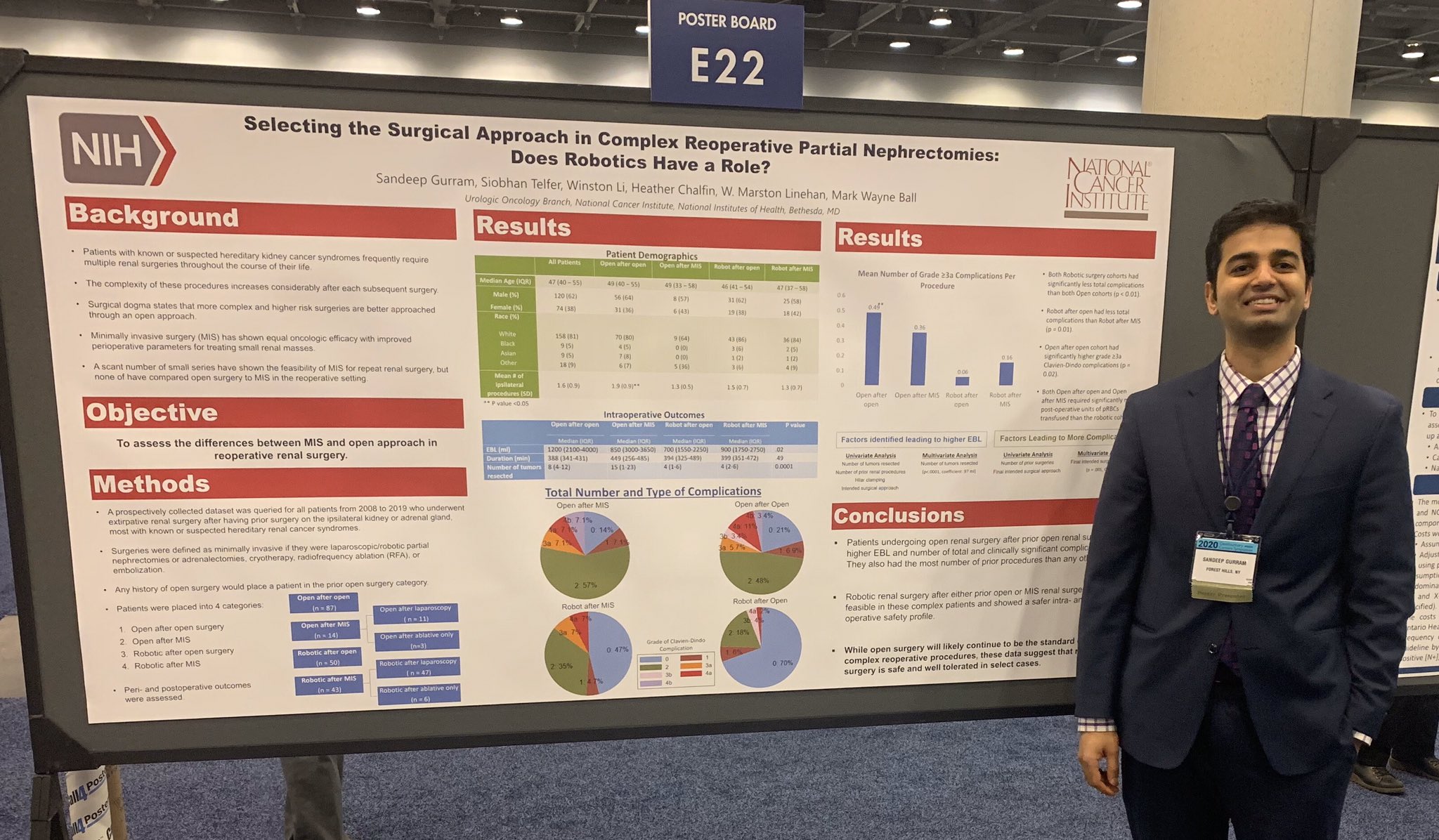 Dr. Sandeep Gurram
High School Summer Research Day 2019
Winston Li
AUA 2019