NIH Distinguished Investigator
Head, Molecular Biology Section
Dr. Pastan's contributions to medical research include
The discovery with R. Perlman of a new gene regulatory mechanism whereby many quiescent genes are activated by cyclic AMP and its DNA-binding partner CRP.
Receptor studies which provided the first evidence that peptide hormones bind to receptors on the surface cells, and the use of fluorescence methods to visualize the binding and internalization of insulin and other ligands by living cells, to measure their diffusion rates on the membrane before clustering and internalization, and to demonstrate that different ligands, including viruses, enter cells together in the same vesicles.
Research on the EGF receptor, which showed that the EGF-R (onco)gene is amplified and over-expressed in many human cancers, the cloning and sequencing of the EGF-R cDNA and with Doug Lowy, the demonstration that over-expression of EGF-R in the presence of EGF can transform normal cells into cancer cells.  These studies provided essential evidence that antibodies able to inactivate the EGF receptor could be useful in treating many cancers.
Studies with M. Gottesman on the biochemical basis of multi-drug resistance in cancer therapy, which involved the isolation of the first human multi-drug resistance gene (MDR1) gene and the demonstration that MDR1 encodes a multi-drug transporter that is highly expressed in many human cancers.
The development of recombinant immunotoxins for the treatment of cancer.. Working with R. Kreitman and D. FitzGerald he used protein engineering to produce novel chimeric proteins composed of an Fv that targets a protein on the surface of a cancer cell and a portion of a powerful protein toxin.  
The discovery of mesothelin (with M.C. Willingham) and the demonstration that it is an excellent target for antibody based cancer therapies, because of its high expression on many cancers and lack of expression on essential normal organs.
Areas of Expertise
1. Protein and antibody engineering 2. Immunotoxins 3. Mesothelin 4. Immunogenicity 5. Immunotherapy
Contact Info
Ira Pastan, M.D.
Center for Cancer Research
National Cancer Institute
Building 37, Room 5106
Bethesda, MD 20892
Ph:

240-760-6470


pastani@mail.nih.gov

Immunotoxin Therapy of Cancer
1.2 million Americans develop cancer each year and about 500,000 die from the disease. To improve the therapy of cancer new approaches and drugs with new mechanisms of action are needed. We are developing a treatment that incorporates both these principles. We employ genetic engineering to modify a potent bacterial toxin, which is designed to kill many different types of cells, to an agent that kills cancer cells.
Pseudomonas exotoxin A (PE) is a three-domain protein composed of 613 amino acids. We have produced anti-cancer agents by deleting the binding domain of PE (aa 1-252), and replacing it with the Fv portion of an antibody that directs the toxin to a target on cancer cells. These agents are termed "recombinant immunotoxins" (RITs). They kill cells by arresting protein synthesis, a mechanism not employed by other anti-cancer agents.
Several different recombinant immunotoxins have been developed in our laboratory and we are now conducting clinical trials with 2 of them. Moxetumomab pasudotox (HA22) targets CD22 on B cell malignancies and LMB-100 targets mesothelin present on mesothelioma and many other epithelial cancers (pancreas, ovary, lung, bile duct and triple negative breast cancer).
Moxetumomab pasudotox has produced complete remissions in many patients with drug-resistant Hairy Cell Leukemia (HCL) and has also shown anti-tumor activity in childhood acute lymphoblastic leukemia (ALL). Moxetumomab pasudotox is licensed to AsraZeneca, which has just completed a phase 3 trial in drug-resistant Hairy Cell Leukemia.
SS1P is an anti-mesothelin immunotoxin that was evaluated in patients with advanced drug-resistant mesothelioma. When given alone SS1P had limited anti-cancer activity because of its high immunogenicity in patients with normal immune systems, but when combined with cytoxan and pentostatin to suppress the formation of anti-drug antibodies (ADAs) to the bacterial toxin, several striking and long-term remissions were observed. To allow us to give more treatment cycles and achieve better anti-tumor activity without using immuno-suppressive drugs to prevent ADA formation, we have designed and produced a new RIT, LMB-100 (RG7787), in which the major B cell epitopes and T cell epitopes in the toxin have been identified and silenced. LMB-100 is now being evaluated in patients with mesothelioma and pancreatic cancer.
Current laboratory efforts are focused on:
Investigating the use of rapamycin containing nano-particles to prevent ADAs to LMB-100 and to induce specific immune tolerance to LMB-100 so many treatment cycles can be given,
Using protein engineering to extend the half-life of immunotoxins in the blood and to decrease their non-specific side effect so higher doses can be given,
Determining how to effectively combine immunotoxins with other anti-cancer agents (Abraxane, actinomycin D) and check point inhibitors to increase their efficacy, and
Identifying new targets for immunotoxin-based therapies.
Scientific Focus Areas:
Cancer Biology, Immunology
JOURNAL OF CLINICAL ONCOLOGY.

30:

1822,

2012.

[ Journal Article ]

JOURNAL OF CLINICAL ONCOLOGY.

34:

4171,

2016.

[ Journal Article ]

PNAS.

113:

10666-10671,

2016.

[ Journal Article ]

Molecular Cancer Therapeutics.

13:

2040,

2014.

[ Journal Article ]

Oncotarget.

7:

29916,

2016.

[ Journal Article ]
Dr. Ira Pastan was educated at the Boston Public Latin School, Tufts College, and Tufts Medical School. He did his residency at the Yale School of Medicine (1957-1959) and came to NIH in 1959. In 1970, he founded the Laboratory of Molecular Biology in the NCI.
Major honors
Van Meter Prize, 1971
G. Burroughs Mider Lectureship, National Institutes of Health, 1973
Membership, National Academy of Sciences, 1982
American Academy of Arts and Sciences, 1997
Fellow, American Academy of Microbiology, 1997
Fellow, American Association for the Advancement of Science, 1997
International Feltrinelli Prize for Medicine, 2009
Nathan Davis Award of the AMA for Government Service, 2010
Membership, Institute of Medicine of the National Academies, 2010
| Name | Position |
| --- | --- |
| Tapan K. Bera, Ph.D | Associate Scientist |
| Masanori Onda, M.D., Ph.D. | Staff Scientist |
| Chin-Hsien (Emily) Tai | Staff Scientist |
| Dawn Walker M.S. | Technical Laboratory Manager |
| Noah Chen B.S. | Postbaccalaureate Fellow (CRTA) |
| Steven W. Cummings B.S. | Postbaccalaureate Fellow |
| Dominique Daly B.S. | Postbaccalaureate Fellow (CRTA) |
| Wenlong Liu Ph.D. | Postdoctoral Fellow (Visiting) |
| Xiu-Fen Liu Ph.D. | Biologist |
| Zoe Shancer B.S. | Postbaccalaureate Fellow |
| Richard Beers | Microbiologist |
| Qi Zhou | Biologist (Contr) |
| Adam Cerise M.D. | Clinical Fellow |
| Junxia Wei Ph.D. | Research Fellow |
| Alexander Chan B.S. | Postbaccalaureate Fellow (CRTA) |
| Jasmin Leshem Ph.D. | Postdoctoral Fellow (Visiting) |
| Zeliang Zheng Ph.D. | Postdoctoral Fellow (CRTA) |
Moxetumomab Approved by FDA for Hairy Cell Leukemia
September 14, 2018, by NCI Staff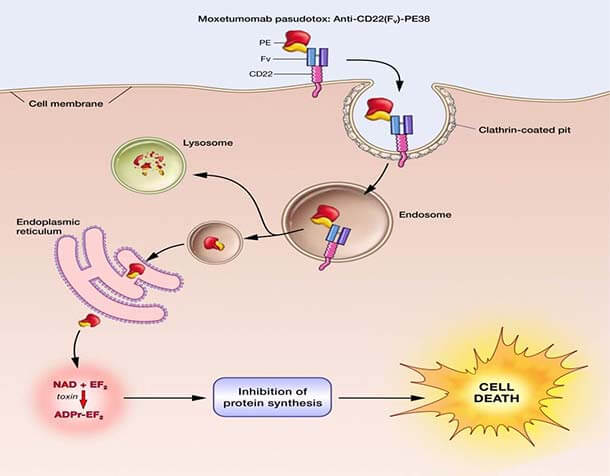 ENLARGE

Moxetumomab pasudotox (Moxe) binds CD22 receptors on the surface of cancerous B cells, where it is internalized and processed to release its toxic payload.

Credit: National Cancer Institute
The Food and Drug Administration (FDA) has approved moxetumomab pasudotox (Lumoxiti), a bacterial toxin–based drug, for the treatment of some patients with hairy cell leukemia (HCL). The approval covers the use of moxetumomab in patients with HCL who have already undergone at least two lines of standard treatments.
The action by FDA makes moxetumomab the first treatment approved for this group of patients. The approval was based on the findings from an 80-patient clinical trial sponsored by the drug's manufacturer, MedImmune. 
In the trial, approximately 30% of patients had a complete disappearance of their cancer (complete response) that lasted for a long period, and side effects from the therapy were few and mostly minor. Overall, 75% of patients in the trial had either a partial response or complete response.
Moxetumomab was originally discovered by Ira Pastan, M.D., and colleagues in NCI's Center for Cancer Research (CCR), and later licensed to MedImmune/AstraZeneca for clinical development. 
"This is an important example of conceptually innovative research conducted at NCI that has come to practical fruition with a commercial partner," said CCR Director Tom Misteli, Ph.D. "It's the kind of work made possible by our ability at NCI to pursue long-term, high-risk research, including on rare forms of cancers such as hairy cell leukemia. Moxetumomab will make a difference in the lives of patients with this incurable disease."
Many people diagnosed with HCL will achieve remission with current treatments, explained the trial's lead investigator, Robert Kreitman, M.D., of CCR's Laboratory of Molecular Biology.
"But about 30%–40% of those patients will relapse 5 to 10 years after their first treatment," Dr. Kreitman continued.
As patients receive further treatments, although they may go into remission again, the length of those remissions gets shorter and shorter, and the toxicities of the treatments accumulate, he explained. For these patients, few effective treatments exist, which is what makes this new approval so important.
"Moxetumomab represents a promising nonchemotherapeutic treatment for HCL, addressing an unmet medical need for patients," Dr. Kreitman said.
Moxetumomab includes a special boxed warning for clinicians and patients about the risk of capillary leak syndrome, in which fluid and proteins leak out of tiny blood vessels into surrounding tissues.
Further details on moxetumomab and the clinical trial on which FDA's approval was based are available in this June 2018 Cancer Currents post.
Dr. Ira Pastan's group photo